Indian Accounting Association Research Foundation (having PAN AAATI3602A) got approval under section 80G(5)(vi) of the Income-tax Act, 1961, from Assessment Year 2011-12 with perpetuity [vide M.No.DIT(E)/8E/134/90-91/3159/6819 dated 21.11.2011].
Any contribution/donation to the Foundation ( A/c IAA Research Foundation) will get benefit of deduction for income tax purpose.
I. G. D. ROY MEMORIAL LECTURE FUND

In view of tax exemption being granted to IAA Research Foundation, Dr. Bhabatosh Banerjee, one of the research scholars of Prof. G. D. Roy, donated a sum of Rs.1,00,000 in March 2014 with the request for creating an Endowment Fund and appealed to his research scholars for making generous contributions to this noble cause of creating an endowment fund so that a memorial lecture in the name of legendary Professor G, D. Roy can be organised annually out of income of the fund. The Executive Committee of the Foundation gave its concurrence on 22.05.2014.

In response to the above appeal, many ph.d. scholars of Dr. Banerjee and a few others contributed Rs.3,00,000/- over a period of four months only. The names of the contributors and the amount contributed by each of them (in brackets) are given in the paragraph that follows.
Dr. Pinaki Ranjan Roy, Principal, Netaji Nagar Day College, Kolkata (Rs.40,000); Dr. Swapan Kanti Choudhuri, Executive Director, EPL Global (Rs.30,000); Dr. Manipadma Dutta, Dean Academics, Teri University, New Delhi, Dr. Swagata Sen, Professor and Dean of Commerce and Management, University of Calcutta, Dr. Jitendra Lal Kundu, Former Reader, R.B.C. College, Naihati (Rs.25,000 each); Dr. Kartick Chandra Paul, Professor of Commerce, Vidyasagar University (Rs.22,000); Dr. Lakshmisree Ghosh, Associate Professor, Naba Bullygung Mahavidyalaya, Kolkata, Dr. Goutam Bhowmik, Assistance Professor, Gourbanga University, Malda, West Bengal, and Dr. Onkarnath Dutta, Formerly of SAIL, Ranchi (Rs.20,000 each); Dr. Arindam Banerjee, Pennsylvania, USA (Rs.13,000); CA Dr. Satyajit Dhar, Professor, MBA, Kalyani University, Dr. Dhrubaranjan Dandapat, Professor of Commerce, Calcutta University, Dr. Samirendra Nath Dhar, Professor of Commerce, North Bengal University, CA Dr. Somnath Ghosh, Somnath Ghosh & Associates, Dr. Surojit De, Assistant Professor, Raigunge University College, NBU, Dr. Amalendu Bhunia, HOD, Commerce, Kalyani University (Rs.10,000 each).

Total fund collected was Rs.4,00,000; Total Fund invested Rs. 4,00,000 in FD with SBI, Lake Gardens Branch, Kolkata-700 045, at 8.5% p.a. and "G. D. Roy Memorial Endowment Fund" has been created with Rs.4,00,000 to meet the expenses of annual Memorial Lecture out of interest from the Fund.
II. CONTRIBUTION OF PROF. ROY TO ACCOUNTING AND HIS BRIEF RESUME

It is very hard to catch in one frame a versatile personality like Professor Gopal Das Roy (G..D. Roy). His scholarship, his administrative quality, his feelings and devotion towards wellbeing of the students made him a legend figure during his life time in the area of academia. So the following few paragraphs about him as an endeavour to portrait him may be a courageous one.This is done in two sections viz. (A) Contribution to Accounting, and (B) Brief Resume.
A) Contribution to Accounting :

Prof. G. D. Roy published three books (including one jointly edited with the then Head of the Department of Commerce, Prof. K. Mukerji), about 20 research-based articles in accounting in different Indian journals and supervised 14 Ph.D. theses for doctorate degree in commerce under the University of Calcutta.
(i) A Survey of Accounting Ideas with an Approach Based on Claims to Services (Alpha Publishing Concern, Kolkata, 1963, pp. 488)
This landmark publication is divided into six parts, viz.
Part I. Introduction
Part II. Basic Concepts
Part III. The Theory of Claims to Services
Part IV. Valuation of Assets
Part V. Accounting of Changing Price Levels
Part VI. Conclusion: Interpretation of Published Accounts & Accounting Ratios.

Although the book deals with many areas of accounting and reporting with a new and innovative approach, Part III is widely considered to be his original contribution to the literature of accounting. In brief, the theory of "claims to services" envisages that all accounting attributes are 'claims to services', positive or negative. Assets and liabilities are claims and disclaims against or in favour of any body. But expenses are claims against proprietorship and incomes disclaims in favour of it. All transactions are exchanges in claims which bring about a change in accounting balances in such a way that, at any moment, the sum of the existing claims is always equal to that of the existing disclaims (p.164, Part III).

A Survey of Accounting Ideas received wide appreciation from renowned scholars the world over, as a piece of "substantial work along with publications of Bell, Sprouze and Moonitz, Littleton and Zimmerman" (Stephen A.Zeff), "evidence of high level scholarship" (R.T.Sprouse), "this is a first effort of its kind by any Indian author" (T.M.Hill), to quote only a few distinguished academics.

(ii) Studies in Accounting Theory, (ed.) K. Mukerji and G. D. Roy [The World Press Pvt. Ltd., Kolkata, 1975; (2/e 1981) pp. 374]
This volume contains 17 articles in different areas of accounting and reporting by the faculty members of the Department of Commerce, University of Calcutta. It was "an effort to ensure that the teaching of Accountancy can be kept meaningfully related to the act of recording physical transactions. In this sense, there can be no theory that does not completely cover the practice in the associated area. The principal effort in the volume has been to establish that what is usually called theoretical are immensely important issues of interpretation, without which the so-called practice in respect of an area cannot have any meaning whatsoever" (Preface to the 1st ed., p. iv).

The book was first of its kind for commerce students of undergraduate and post-graduate students in India. The emphasis on teaching "theory" to the students was subsequently formalised in the commerce syllabi of many universities and those of professional bodies. Professor Mukerji and Professor Roy played pioneering role in bringing in new method of teaching of accountancy in India.

(ii) Anatomy of Depreciation (The World Press Pvt. Ltd., Kolkata, 1977, pp. 206)
During his service in Rishi Bankim Chandra College as Principal, Prof. Roy started writing another classical book, Anatomy of Depreciation, and completed the work in 1977. In the Introduction portion, Prof. Roy wrote (p.1) as follows:

"Depreciation as an accounting device has been much talked of and criticised. No end of such talks and criticisms has yet been reached. In fact, it can, possibly, be never reached. Depreciation has so many facets, both practical and conceptual, that no amount of interpretative exercises may appear to be ever conclusive or exhaustive. The interpretations are both complicated and controversial. Hence, reconsideration of old ideas must continue with invention of new ones. Some of these ideas are sought to be placed here and analysed."

This was another masterpiece in the literature of accounting and was evident from the review made by the Accounting Review of the American Accounting Association in 1979. "The book provides an excellent basis for further rigorous research". Among others, the observations of Prof. Paul Garner as "top authority on some of the aspects of the timeless subject of depreciation" speak volume in favour of its excellence.

(iii) Supervising Ph. D. scholars for Ph.D. Degree from the Department of Commerce, University of Calcutta

Professor G. D. Roy's method of supervision resembles the ancient "Gurukul" system. His scholarly endeavour, his affectionate touch made each scholar indebted to him life-long. It was a delightful experience to each research scholar. He spent considerable period of his career in supervising 14 Ph.D. dissertations (vide Table 1) all of which were awarded Ph.D. Degree. Many of these research works were subsequently published and well-received by the academic community. In an era where interest on research in accounting was not even catching up, Professor Roy played a pioneering role in promoting research in accounting in India. Accordingly, drawing analogy from cricket, many academics describe him as "Don Bradman" in the field of accounting research.

Table : 1
Serial No.
Title of Ph.D. Thesis
Name of Scholar
Year of Submission
1
Capital Structure of Jute Industries in West Bengal
Dr. Sisir K. Bhattacharyya
1976
2
Replacement Accounting for Fixed Assets
Dr. Debabrata Majumdar
1977
3
Capital Intensity as a Criterion for the Choice of a Technique for Industrial Development of Underdeveloped Countries like India
Dr. Bhupesh Chandra Bhattacharyya
1978
4
A Survey of Material Accounting Methods towards a Homogeneous Process
Dr. Swapan Kumar Bhattacharyya
1978
5
An analysis of the Nature and Changes of the Capital Structure of the Central Government Companies, 1960-61 – 1969-70
Dr. Jyoti Bikash Sarkar
1979
6
Effect of Turnover on the Valuation of Goodwill
Dr. Manish Chandra Datta
1979
7
A Study of Significance of the Financial Ratio Analysis in Relation to Lending Decisions
Dr. Bimalendu Mukhopadhyay
1980
8
Cash Management-Derivation from Case Studies
Dr. Bhabatosh Banerjee
1981
9
Development Rebate – an Incentive towards Industrial Growth in India
Dr. Sunil Kumar Sengupta
1981
10
Development of Corporate Financial Reporting in Bangladesh in the Context of that in India and other Countries
Dr. Dipak Kanti Dutta
(Bangladesh)
1982
11
Accountants' Enterprise Income and the Value Added Income – A Comparative Study
Dr. Gokul Chandra Sinha
1982
12
Changing Profile of the Accounting Function (An Evolutionary Process)
Dr. Md. Harunur Rashid (Bangladesh)
1983
13
The Practice and Policy of Depreciation in Bangladesh
Dr. Binay Krishna Sarma
(Bangladesh)
1986
14
Dividend Policy as a Factor Influencing Corporate Finance with Particular Reference to Sterling Tea Companies
Dr. Ranendra Nath Chakraborty
1989
Source: Compiled from University of Calcutta, Ph.D. Section, since it was not possible to contact all the scholars individually.
There were many other research scholars who were immensely benefited by receiving Prof. Roy's valuable advice in respect of their research works.

B) Brief Resume of Prof. G. D. Roy

Prof. G. D. Roy (born on 11.12.1916) started his teaching career in 1942 from Haraganga College and thereafter he served Manikgunge College and Dacca University (all situated in the erstwhile East Pakistan, now Bangladesh) as a Lecturer. He was compelled to leave Dacca University when his parents with other family members decided to settle in India after partition in 1947.

As a teacher, his debut in India was in Kharagpur College where he stayed for a short period. Then he joined Rishi Bankim Chandra College, Naihati, 24-Parganas, West Bengal, in 1950 as Vice-Principal. It was a very colourful period in his life when he proved himself as a great academician as well as a finest administrator in the field of higher education in West Bengal. As an academician, he started writing a book, A Survey of Accounting Ideas, about which a brief write-up has already been given in Section A(ii). Prof. Roy was simultaneously involved in building Rishi Bankim Chandra College from scratch to a College of 13,000 students having scope to study in three shifts – morning, day and evening – with a number of subjects under Arts, Science & Commerce streams which at that time most of the universities could not afford to offer for many constraints.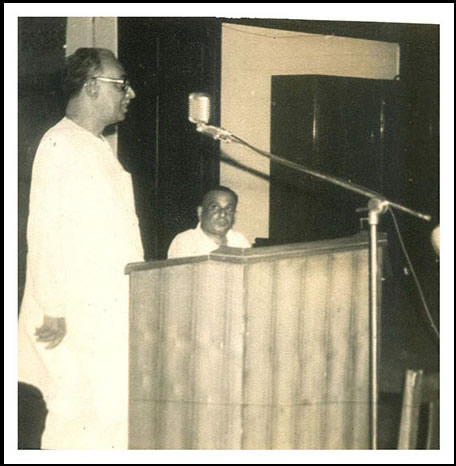 Prof. Roy joined University of Calcutta in 1972 as Reader in Commerce and started teaching Accounting Theory, a subject which was very dear to his heart. Over time, he served as In-charge of Evening Department of Commerce for a brief period and later, as Head of the Department for two years. Professor Roy became Professor of Accountancy in 1982. It was probably for the first time that the U.G.C. visiting team recommended the post of a "professor of accountancy" keeping in mind the contribution of Professor Roy in India. The post was however made open, i.e. professor of commerce, shortly after the retirement of Professor Roy on 01.02.1982.

He was the founder member of the Indian Accounting Association (IAA) and became its President in 1974. Prof. Roy acted as the Chief Editor of the Indian Journal of Accounting (a bi-annual journal of IAA) for a number of years. He was also the founder member of the IAA Research Foundation. Along with all these activities in India, Prof. Roy regularly maintained academic contacts with American Accounting Association (AAA) as its member. His two attempts to attend the International Conference of the AAA, on special invitation, did not succeed – first due to wild-cat strike of airlines and then due to sudden set back in his health condition. Nevertheless, Prof. Roy continued to keep regular contacts with renowned scholars in different parts of the world even though electronic connectivity in those days was few and far between. In January 1994, when Professor Stephen A. Zeff, immediate Past President of the AAA, came to Calcutta to give a keynote address in the Second International Conference of the IAA Research Foundation, he was delighted to meet this accounting scholar from India and expressed his views that his long wait for meeting the author of "A Survey of Accounting Ideas" ultimately ended in Calcutta.

In 1995, the University of Calcutta recognised and felicitated him as "Eminent Teacher" during its Annual Convocation for "outstanding contribution to teaching and research for over two decades and for encouraging and nurturing students who have distinguished themselves by their scholastic achievements."
Prof. Roy's versatile talents did not remain confined to academic activities alone. In his early life, he was very fond of performing recitation and drama in academic and social functions. He organised many dramas and played important roles in each. These include Bankim Chandra's Baikunther Khata, Rabindranath Tagore's Dakghar and Karna-Kuntir Sangbhad, to mention a few. . Prof. Roy did not hesitate to participate in any social functions organized by several organisations, including Eastern Railways. Such functions ranged from sports, to Basanta Utsab and Bangalir Mach Dhara. Accordingly, his popularity did not remain confined to academic institutions but spread far and wide. He became a most respected social personality for his contribution to different activities of the society. In brief, every body and every organisation could access to "Gopalbabu" for any purpose whatsoever.

On 28th September, 1997, this noble soul left for heavenly abode leaving behind him his wife, Mrs. Bina Roy, two sons (Debaki and Pinaki), daughter-n-laws (Bharati and Gargi) and grandson (Angsuman) and grand-daughter (Puloma) and thousands of his students both in India and Bangladesh. Mrs. Bina Roy, who was Headmistress of Madanpur Kendriya Adarsa Vidyalaya for Girls (Higher Secondary), and, latter, of Garifa High School for Girls (Higher Secondary), always rendered her helping hands to Prof. Roy in all activities. Mrs. Roy's life ended on 9th December, 2008. She too left behind her family members and relatives and thousands of her ex-students.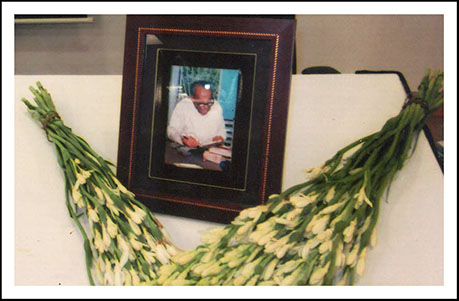 The feeling of the accounting community can be partially captured from the resolution adopted after the sad demise of Professor Roy.
"Professor Roy was an accounting scholar of international repute, a successful research-mentor and a gentleman par excellence. His 'Theory of Claims to Services' published in 'A Survey of Accounting Ideas' in 1963 earned him a world-wide reputation. His endeavour to promote research in accounting also earned Calcutta University a distinguished position among the Indian universities. The Calcutta Branch of the Indian Accounting Association honoured Professor Roy in 1989 for his seminal contribution to accounting theory…….. His demise is an irreparable loss to accounting academics and professionals in India and abroad in general and to the Indian Accounting Association and the Indian Accounting Association Research Foundation in particular. The members present do not find appropriate words in expressing their heartfelt sympathy to the members of the bereaved family. Let the departed soul of Professor Roy rest in peace in heavenly abode."


[Joint condolence meeting organised by the Executive Committee of the IAA Research Foundation and IAA Calcutta Branch held at 4.00 p.m. on Monday the 6th October, 1997, in Asutosh Building, Calcutta University, and chaired by Dr. N. G. Choudhury, Vice President, IAA Research Foundation]

"The lives of greatmen remind us, we can make our lives sublime, and
departing, leave behind us, footprints on the sands of time."
Wordsworth
[Compiled by Dr. Bhabatosh Banerjee and Dr. Pinaki Ranjan Roy]

The First G. D. Roy Memorial Lecture
The First G. D. Roy Memorial Lecture was held on 26th July, 2014, in the International Management Institute-Kolkata, 2/4C Judges Court Road, Alipore, Kolkata-700 027 (Room No. 104), from 10:45 am to 12:00 noon. Prof. K. R. Sharma, formerly of the University of Udaipur, and Past President, IAA, chaired the session. Dr. Bhabatosh Banerjee, former research scholar of Prof. G. D. Roy, spoke on Research in Business Education; Some Issues. Dr. B. Banerjee published in the Indian Journal of Accounting (December, 2014: Vol. XLVI- 2) an article entitled "Accounting Education in India in Changing Perspectives" (pp. 37- 46) based on the memorial lecture.
The Second G. D. Roy Memorial Lecture
The Second G. D. Roy Memorial Lecture was held on 25th July, 2015, in Room No.104 of the International Management Institute-Kolkata, 2/4C Judges Court Road, Kolkata-700 027, from 11.30 a.m. to 12.30 p.m. Dr. K.V.Achalapathi, Professor & former Dean of Commerce, Osmania University, and past President, Indian Accounting Association, spoke on "Implications of IFRS on Corporate Financial Reporting in India: Empirical Evidence", which was a part of his major UGC Research Project. Professor Achalapathi (a) examined the experiences of countries which has adopted/converged their accounting standards with that of IFRS, and (b) analyzed the impact of IFRS on Corporate Financial Reporting through Financial Ratios.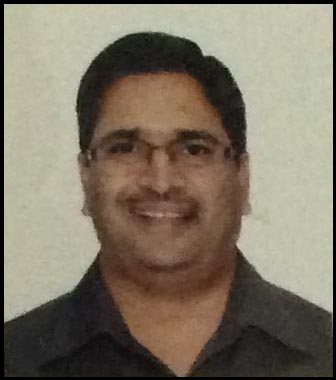 The Session, which was chaired by Professor Bhabatosh Banerjee, President, IAA Research Foundation, was very interactive. Dr. Pinaki Ranjan Roy, former Principal, Netaji Nagar Day College, Kolkata, offered a hearty vote of thanks.
Professor Achalapathi's revised paper entitled "Implications of IFRS on Corporate Financial Reporting in India: Empirical Evidence from Select Indian Companies" is published in the December, 2015 issue (Vol. 19, No.2) of Indian Accounting Review.
The Third G.D.Roy Memorial Lecture
The Third G. D. Roy Memorial Lecture was organized on 9th July, 2016, at the J. N. Bose Auditorium of the Institute of Cost Accountants of India from 12.30 to 1.30 p.m. Dr. D. V. Ramana, senior Professor, Xavier Institute of Management, Bhubaneswar, spoke on "Cost to Serve and Tariff Rationalization in Power Sector: Some Observations". The session was chaired by Professor Bhabatosh Banerjee, President, IAA Research Foundation.
Professor Ramana in his thought provoking talk explained the concept of "cost to serve" (CTS) using the financial information of one of the power distribution companies of Odisha, NESCO, which is in the business of distribution and retail supply of electricity in five districts of Odisha. According to him the cost to serve the domestic customers is around two and half times of the heavy industry. But the tariff is not reflecting the cost to serve. He revealed the importance of pricing based on CTS. According to him, the present classification of cost and expenses is not very relevant for CTS study. These components ((expenses, incomes, assets and liabilities) are therefore required to be classified and recorded in such a way that they can be used for statutory accounting and CTS determination.A revised version of the paper was published in Indian Accounting Review, December, 2017, pp. 25-37.
The session was interactive and the possibility of funding of a research project by the Foundation was also discussed. Dr. Pinaki Ranjan Roy, former Principal, Netaji Nagar Day College, Kolkata, offered a hearty vote of thanks.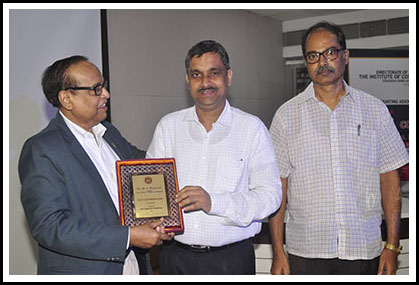 Fourth G. D. Roy Memorial Lecture
The Fourth G. D. Roy Memorial Lecture was organised on 8th July, 2017, in the J.N.Bose Auditorium of the Institute of Cost Accountants of India from 12.30 noon to 1.30 p.m. Professor Bhabatosh Banerjee, President of the IAA Research Foundation, was in chair. Dr. Asish Saha, Professor of Flame Universituy, Pune, and former Director, National Institute of Bank Management, spoke on the theme "Banking Structure, Conduct and Performance: the Indian Reality." Many members of the Research Foundation and CMAs were in attendance.
Dr. Pinaki Ranjan Roy, former Principal, Netaji Nagar Day College, offered a hearty vote of thanks.
Professor Saha explored the possible rationality behind the impending move of a Government-led merger amongst public sector banks in the country based on two-stage analysis of the financial performances of a sample of 84 banks during the period 2000-2016. The analysis was carried out in the backdrop of the ongoing debate in the literature on competition, efficiency and stability in banking and the corresponding issues in banking consolidation. Findings suggest that due to concentration, bigger banks having better solvency position are able to offset their operational inefficiency by higher margin in lending products. It is found that though Indian banks have been able to increase their return on assets by expanding their lending activities, the tendency of over-reaching the borrowers has resulted into strained position in their balance sheet. For further details of the paper, go through December issue of IAR.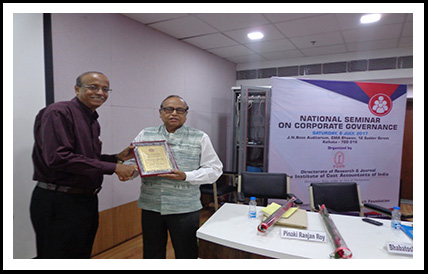 IAR Endowment Fund
The Executive Committee decided in its meeting on 18th June, 2014 to raise the present Endowment Fund to meet printing, distribution and other expenses of IAR (estimated at about Rs..75,000 p.a. for two issues) by inviting donation from members and others a minimum amount of Rs.5,000/- per member which contribution will attract tax benefit under section 80-G of the Income Tax Act, 1961.The target is to raise an additional fund of Rs.5,00,000. The AGM held on 26th July, 2014, approved the decision. Accordingly, members are requested to contribute generously to the IAR Endowment Fund by cheque in favour of IAA Research Foundation and send it to the Editor (Dr. Bhabatosh Banerjee, 164/78 Lake Gardens, Flat B-10, Kolkata-700 045) along with a forwarding letter giving details of the member concerned (viz. name as per PAN and mailing address). On request willing members may also get particulars of Foundation's bank account for transferring donation through their respective bank accounts. The names of the donors will be displayed in the Foundation's website which will be updated from time to time.

The present Fund position is given below for information of the members.
A. Amount invested till 31st March, 2014:

Contributed by Late Professor H.S.Kulshrestha (one of the
Founder members)

Rs.1,00,000

Permanent and annual subscriptions from Institutional subscribers capitalized

Rs. 2,00,000

Total

Rs. 3,00,000

Put into FD with SBI, CU Branch, Rs. 3,00,000/ on 13.05.2013 for 03 Years @ 8.75% p. a.

B. Contributions received since 1st April, 2014:

CA Mr. P.R. Ramesh (an EC member)

Rs.

1,00,000

Prof. K.R. Sharma, Former Dean of Business Studies,
M.L. Sukhadia University, Udaipur

Rs.

50,000

Prof. Belvered E.Needles, Jr. , DePaul University
(life member of the Foundation)

Rs.

30,183

CA Mr. G.P. Agrawal, Patron, IAARF

Rs.

21,000

Prof. G. Soral, Director, MBA Programme, M.L. Sukhadia University, Udaipur

Rs.

10,000

CA Prof. Sunil Gandhi, Dept. of Commerce, Kalyani University

Rs.

10,000

Dr. Badal Maity, Mahisadal Raj College, Vidyasagar University

Rs.

10,000

Dr. Amit Kumar De, Prabhat Kumar College, Vidyasagar University

Rs.

10,000

Mr. Amit Das, Asstt. Professor in Commerce, Surendranath Even. College, CU

Rs.

10,000

Prof. Sharmistha Banerjee, MBM, Calcutta University

Rs.

5,000

CA Mr. Sanjay Bhattacharya, (an EC member)

Rs.

5,000

Dr. Tarun Mandal, Rabin Mukherjee College, Calcutta University

Rs.

5,000

Prof. P.K.Ghosh, Former VC, NBU

Rs.

5,000

Mr. Amiya Kumar Nayak, Bagnan College, Howrah, CU

Rs.

5,000

Dr. Radhanath Pyne, HOD Commerce, SA Jaipuria College, CU

Rs.

5,000

Mr. Suvankar Chakraborty, Asstt. Prof. in Commerce, Purash Kanpur College, C.U.

Rs.

5,000

Dr. Bibekananda Sarkar, B.B.College, Asansol, Burdwan University

Rs.

5,000

Mr. Himadrish Chatterjee, Asst. Prof. in Commerce, Rishi Bankim Chandra College, Naihati

Rs.

5,000

Dr. Sanjib Kumar Basu, St. Xavier's College (Autonomous), Kolkata

Rs.

5,000

Rs.

5,000

Up to October 16, 2014
Rs.
3,01,183
Invested Rs. 3, 00,000/- on 21.10.2014 in FD with SBI, Lake Gardens,
for 4 years at 8.75% .
------------------

CA Mr. Nirupam Haldar, Former Chairman, EIRC of ICAI and former President, Institute of Internal Auditors of India

Rs.

5,000

Dr. Sudhansu Sekhar Mahapatra, Sikkim Govt. College, Gangtok

Rs.

5,000

Dr. Tanupa Chakraborty, Dept. of Commerce, University of Calcutta

Rs.

5,000

Mr. Kousik Kr. Rana, Assistant Professor, D.M.Vidyapith, 24 Parganas (S), C.U.

Rs.

5,000

Mr. Sudhir S.K. Jaiswall, Guest Faculty, Indian Institute of Management Calcutta.

Rs.

20,000

Mr. Anil Kumar Saha, Associate Professor in Commerce, SA Jaipuria College, Calcutta University

Rs.

5,000

Annual renewal fees capitalized

Rs.

5,000

Collections (17th October 2014 to 25th March, 2015)

Rs.

50,000

------------------

Invested Rs.50,000/- on 25.03.2015 in FD with SBI, Lake Gardens, for
3 years at 8.5%

Rs.

50,000

Mr. Amit Kumar Sen, VP, IAA Research Foundation

Rs.

10,000

Dr. K. Eresi, VP, Visiting Professor, Bangalore University

Rs.

10,000

Prof. Memcha Loitongbam, Director, Manipur Institute of Management Studies, Imphal

Rs.

5,000

Bidyut Kana Gopesh Chandra Foundation, New Alipore, Kolkata-700 053

Rs.

50,000

Dr. L.S. Porwal, Professor of Commerce (Retd.), Delhi University

Rs.

10,000

Dr. Tanmoy Datta, Professor of Commerce (Retd.), Tripura University, Agartala

Rs.

10,000

Prof. K.V. Achalapathy, Osmania University, Hyderabad

Rs.

10,000

Prof. Ashish Sana, University of Calcutta, Director, CUCSE-CEFM

Rs.

5,000

Prof. Ranjan Kumar Bal, Utkal University, Bhubaneswar

Rs.

5,000

Prof. D.V. Ramana, Xavier Institute of Management, Bhubaneswar

Rs.

5,000

Prof. Sudhir K. Jaiswall, IIMC

Rs.

20,000

Put into fixed deposit with SBI Lake Gardens at 7% for on 5 years on 22.3.2016

Rs.

1,33,000